Afbeelding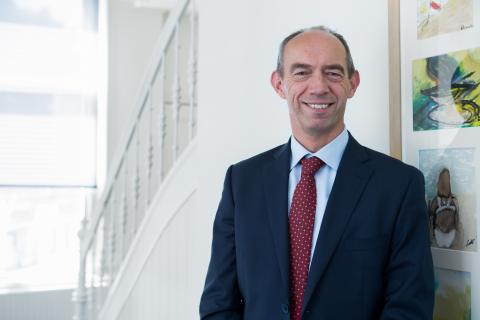 This time in "in de spotlight" colleague Ronald Schoo
Who are you?
My name is Ronald Schoo. After my previous employers Christian Salvesen (now XPO) and PTV, I am happy to say that I am part of the Districon team since 2000. That seems a long time, however working on challenging projects with inspiring colleagues makes time fly! I do like to spend my free time with family and doing sport activities like running. Once, a long time :-) ago, I participated in 100m and 200m sprints. Now I run half- and sometimes whole marathons. 
My experiences
Supply Chain and distribution projects have my special interest. What are the right geographical spots for distribution centres? Which assortment is allocated to what warehouse, how to distribute goods in a smart way with the best transport modality? How can we do this sustainable and future proof? Should we outsource or insource? I'd like to solve this puzzle together with our clients, from design to implementation. Examples? For Vedined – PPG (paint and non-paint), I cooperated in the development of a new logistic strategy; for brewer Heineken I visited Opco's all over the world in order to assess transport costs. On behalf of the Green Business Club I am exploring smart and sustainable possibilities for city distribution in Utrecht. 
Vision of the future
Looking around, I see a rapidly changing world. From a logistics perspective, this means for city centres a high and growing pressure on public space. We all want access to an infinite assortment that is delivered in no time at all. Demanding this has several downsides (f.e. living environment, congestion, pollution), which we do not want to think about for too long. Of course, we can't continue like this. Hence, this is why I believe in redesigning city distribution, focussing on keeping high service levels while reducing logistic movements and emissions. One way to do so is making use of new technologies. Districon is involved in projects focussing on sustainable last mile and MaaS solutions, 'Connected transport' and EV loading strategies for electric freight transport. Topics which we'll talk about in the upcoming Districon Seminar on June 20th. 
Next in the spotlight?
I do like to pass on the pen to Christina Sanchez Molero, my Districon colleague in the United States. Districon has an own office in Chicago since 18 months, and is operating very successfully. Christina, what motivates you and what are characteristic projects you're working on now?