"It is not only about having a forecast, it is also about quickly reacting on unexpected events that creates demand that we cannot forecast"
Districon has wide experience in Supply Chain Planning. We have powerful tools to develop and implement applications. Besides, we have the right expertise to improve processes and to support your company with these changes or improvements. You can think of the following planning processes:
Sales & Operations Planning (S&OP)
Integrated Business Planning (IBP)
Forecasting & Replenishment
Inventory Planning and Control
Control Tower
Vendor-managed Inventory (VMI)
Clarification of costs and logistic processes comes along with much data, often originating from various systems. Our tools enable us to easily connect data sources, which provides us insight into processes from an integral and a chain-wide perspective from production to end-user.
"It is not only about creating a good forecast but also about quickly responding to unexpected occasions that create unexpected or unpredictable demand". When you ensure efficiency in your processes and corresponding tools, your company is much more agile. This enables you to handle supply chain disruptions in a better and faster manner. For example, the enormous impact of COVID-19 on both demand and supply.
Insight and acting fast requires the correct alignment between production, logistics, and sales. In the past, we have improved the performance of many different companies by optimizing essential planning processes. 
Districon supports you with the S&OP Journey (as written by Gartner in the picture below), which:
starts with customer proposition
enhances a cross-functional process
differentiates multiple time periods
and will be supported by tooling and advanced analytics
Afbeelding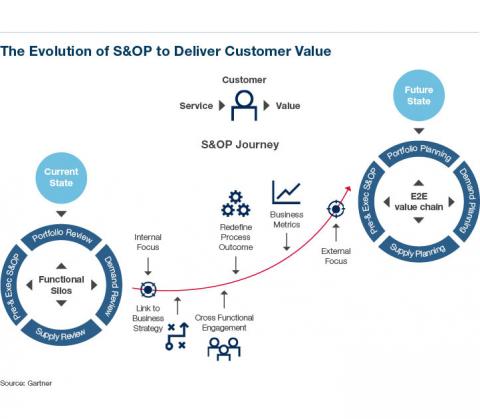 Became curious?
Would you like to know more about how Districon can also help your company with supply chain planning? Please contact Erik Stienstra, he will be happy to tell you more about this!
Share with: