Afbeelding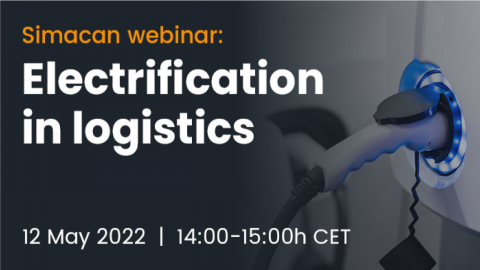 Further developments on ZEZ and the European Union ambition of being emission free in 2050, will increase the demand for electric vehicles and the need to invest in EV charging infrastructure rapidly. How do we deal with this? Simacan organized the webinar 'Electrification in logistics' to talk about this transition to EV and the available solutions to electrify logistics transport. Sanne Aelfers from Districon was one of the key-note speakers. Her subject: at which point are we in energy consumption of a truck? What influences the consumption and how do you monitor it?
Based on recent study Districon found out what influences the battery capacity of vehicles the most. Several factors are of influence on the battery level:
Type of road, hills or flat roads
Weather conditions
Weight of the truck contents
Charging strategy
Way of driving
State of charge (how much of the battery you can actually use)
Age of the battery (the older, the less capacity)
Peak seasons (depends on the logistical sector)
What is most relevant of these we can influence ourselves? Sanne: "The way of driving is definitely the most important factor. By training your drivers you can maximize the battery level up to 30%!" The poll held in this webinar on 200 participants showed that they agreed on Sanne. "Driving an electric truck is different. You can do this with the same drivers but need to just train them on driving these trucks, as efficient as possible. And for example reward them when they do well."
Start small
When you talk about research modelling and the need of battery capacity in the whole fleet, it can be difficult to decide where to start. "The transition doesn't start only with buying new trucks. My advice: start small. Explore on this field the possibilities just for a few of your trucks. What is the most easy way, the shortest distance and the least possible weight. Then ask yourself questions like: where do you charge? How many great capacity do you need and how many charging points? What are lead times to get the trucks and the right infrastructure. Then, after getting this experience, scale up to a larger part of your fleet", Sanne explains.
Importance of monitoring
What helps, is to monitor during operation. Sanne explains that is really important to monitor the battery capacity. For example for retailers it is very important to deliver at time, otherwise they can't sell their products. So you need to make sure the truck is capable to deliver the products. You don't want to need additional time to charge, because this will lead to additional costs.
Optimizing operations
With our team of consultants we work on electrification projects by optimization tooling. We advise our clients by monitoring the data on their current operations. For example their routes, locations, distances weights and timetables. With this information we develop models to make forecasts on their charging needs. This helps them to set up the best possible operation flow to minimize their emission.
Don't wait, time to take action
It is a big transition, when do you start? "Government subsidy for electric trucks was finished in only one day. It is a good sign, but a complex puzzle. How does the transition fit in your planning? Most important: don't wait. If you wait too long you will be forced to by your government and then are too late. From 2025 the zero emission zones will be implemented. There will be a transmission period, but you need to be ready earlier because implementation of your electrification will take time. So start now by keeping it small".
Want to more about electrification for your fleet and how to approach this? We like to answer your questions on this. Contact Sanne Aelfers via info@districon.com